Lamination Technology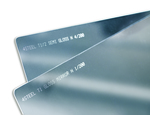 Lamination plate made of Stainless steel
Available in 0.6, 0.8 and 1 mm our lamination plates are ready for the lamination process. 4STEEL plates are 100% controlled and packed inside a protective PE interlayer. No need to peel off the film!
Option: Special cutting like half moon shape, special roughness, flow stop technology (matt borders), incremental numbering of each plate.
4STEEL material is compatible for all type of security features.
T1 Gloss Mirror
T1/2 Semi Gloss
T2 Silk
T3 Matt
T Supermatt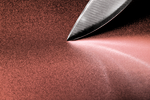 EXTREMSTEEL
Lamination plate made of hardened Stainless steel
Extremesteel combines high scratch resistance with long-term stability necessary for the demanding card manufacturing environment.
A microhardness of up to 500 HV guarantees extended lifetimes compared to standard stainless steel plates, yielding higher productivities.
Microhardness of up to 1.000 HV available soon.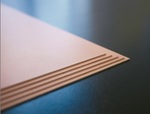 Lamination press pads
Available in our warehouse in different master sizes to be delivered in each dimension and quantity according to customer request.
KN22 is the well known pad for PVC suitable with lamination temperature up to 180°c
YOM01FGK is an efficient and long life pad for PC, PET and PVC for temperature up to 250°c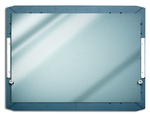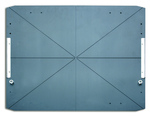 4Plate cassette system
Our cassette systems are compatible with every lamination press type. In case of security features on both sides we can guarantee a very high precision thanks to our system working in register with pins and half moon cut. We can modify existing systems. 4KSET and cover plates can be made of aluminium or stainless steel with or without coating technology.